Did you know that LinkedIn has more than 740 million members and over 55 million registered companies? How about the fact that these members live and work in more than 200 countries?
The world of digital marketing is finding innovative ways to reach their target audience and spread the word about their brand. Using automation tools for various steps of the sales funnel to make the process more streamlined and efficient, while generating regular leads for a business is becoming a dream come true.
With that being said, more and more businesses are leaning towards LinkedIn for their campaigns as their marketing platform of choice. Why not? LinkedIn has the world's largest professional network which makes it a hotspot 'B2B platform'.
On the flip side, the huge audience out there (which is growing by the hour) becomes a challenge to keep up with. Connecting with your end users through a manual process is laborious and slow, in fact, it is awfully painful leading to lower conversion rates as well. How can you keep track of hundreds of individuals every day and move them successfully through your sales funnel with manual labour?
This is where smart LinkedIn automation tools come in handy.
We have sifted through the most successful tools out there which will truly supercharge your LinkedIn lead generation and make you a savvy media marketing expert.
A caveat here is that we have only included tools and services that do not require you to have deep technical or marketing knowledge.
Best LinkedIn Lead Generation Tools in 2021
Let's explore the 7 tools to help you boost sales using LinkedIn as a digital marketing pro.
And if you aren't aware what LinkedIn Tools or Automation means, refer to our FAQs below.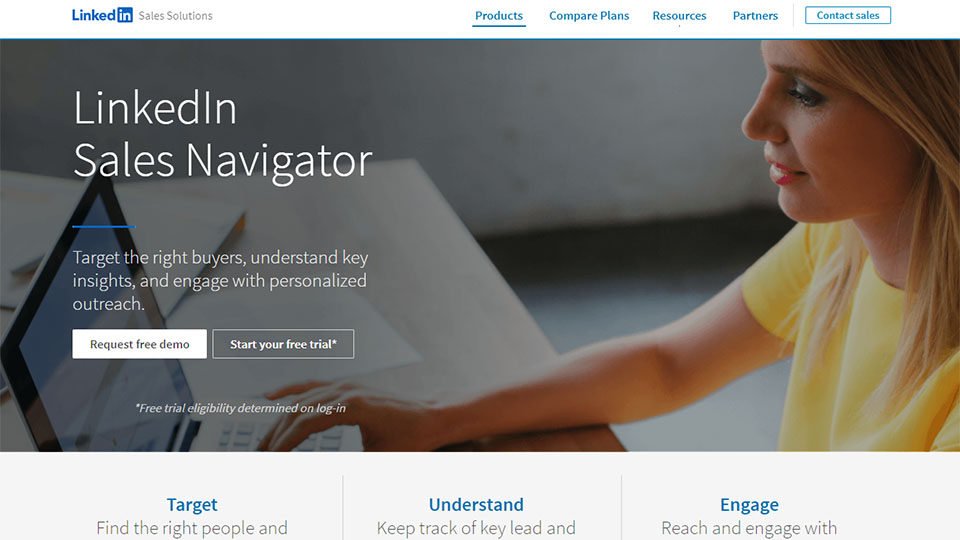 LinkedIn has developed its Sales Navigator for sales professionals. It offers a premium package that provides you with a quota of InMail credits, the ability to unlock the full information on locked profiles and integration with your CRM. You can also find sales leads and store them in your account for later contact. Team-level sales navigator accounts help you build connections by identifying team members who are connected to a sales lead, which saves you on InMail credits.
LinkedIn Sales Navigator comes with features that enables users to contact, connect and engage with their prospects securely and professionally. It really helps you convert your prospects into buying, loyal customers.
Pros
Unparalleled database of decision-makers at enterprise companies.
In-depth search features to find the right prospects at the right companies.
Helps uncover insights about target companies and prospects.
Improves visibility into target accounts and gives you access to stakeholders in your target companies.
Ability to tag key accounts and contacts as saved leads and get active updates on any movements in these leads.
Seamless integration with most of the CRM systems.
Direct communications with potential customers.
Extended connections expanding your networks and adding value to your business and organizations.
PointDrive presentations which users can create engaging content that can boost your sales and networks.
Real-time updates and live notifications about any changes on the status and other information of your leads.
Cons
Low response rates for enterprise target prospects when communicating through InMail.
Export functionality is non-existent when working with your CRM.
Search can get restricted if you want deep targeting, like some of the other social media platforms can offer e.g. Facebook Paid Ads. However, the Cost Per Lead for paid ads there is significantly higher when compared to Sales Navigator's monthly subscription
Requires a lot of manual effort to keep track of all the leads and messaging.
Too few InMails (just 20 to 50 each month) can't get you very far if that's all you rely on for lead generation.
Takes a lot of time to get the searched prospects into any kind of an effective, automated lead generation campaign and even more technical know-how to get them into a non-LinkedIn marketing campaign e.g. an outbound email campaign.
Bytomate is one of the smartest AI based LinkedIn automation service available in the market. It can really supercharge your LinkedIn lead generation and sales funnel, taking it to the next level.
By automating all of the redundant and repetitive tasks such as invites, messaging, replies, search and targeting, allows you to actually focus on adding value where it counts the most so you can easily start converting your potential clients into paying clients.
Bytomate's additional deep filter systems can help you further hone in your ideal potential prospects that are simply waiting to benefit from your product offering. Bytomate allows you to build a custom business network and a lead generation pipeline using its countless amazing features like smart drip campaigns, smart auto-reply detection, variant messaging, unique first of a kind A/B testing.
Bytomate has a complete automated system which can get you hundreds of warm leads into your CRM and helps you close them. A revolutionary approach to actually boosting your sales.
Pros
One of the lowest cost per lead pricing starting from £1 per lead.
Fully automated combined with fantastic support from the Bytomate Team.
Advanced multi-filtering system to reach your prospects..
Automatic lead generation and nurturing with advanced features including smart follow-up messaging system, smart reply detection, auto-endorsing contacts, sequential and variant messaging.
Supports 2 Factor Authentication for your LinkedIn account's safety
As per LinkedIn rules with customers reporting no account bans.
Mimics human behaviour.
Content is provided with the marketing campaign monitored and refined continuously by the Bytomate Team for advanced plans with one of a kind A/B testing.
Potential to integrate with other marketing campaigns conducted by your own marketing team.
You can request data in Excel format giving you complete transparency.
Based in the UK with a reliable team.
Cons
Limited 3rd party integrations.
Limited manual controls for expert users with the technical and deep marketing know-how.
Requires more involvement from you for the cheaper plans to get results.
Results can take up to 3 months as marketing is all about refining and A/B testing.
Recommends LinkedIn Sales Navigator to take full benefit of their service (though this is offered for free in their advanced plans).
Zopto is a cloud-based tool which helps teams to automate their LinkedIn lead generation efforts. The benefits of integrating Zopto tools into your lead generation process can add immense value to your pipeline. The tool offers features like contact import/export, lead capture, lead database integration, lead nurturing and prospecting tools, all at one place.
You'll be able to not only automate your lead generation process but also to acquire customers outside of your network and enter new markets within days of using Zopto.
Pros
Helps increase your connections quickly.
Easy to set up.
Customer service is very responsive and quick.
Great for marketing agencies to use for their own clients.
Cons
Automated campaigns can only be turned off through customer support.
No feature to skip profiles that aren't premium Linkedin users.
A few bugs and issues reported with their billing.
Less information extracted from LinkedIn to Zopto which makes refining of target audiences and the quality control process difficult.
Can't upload a huge list of people to specifically target if it exceeds campaign limit.
Requires more technical know how which can be seen with their target market being marketing agencies.
LeadFuze aggregates the professional data of businesses and their employees into their database. You can find new leads by using their search engine and build custom audience lists to then run targeted ads. It can help businesses to engage with qualified prospects that are most likely to be interested in the products you have on offer. Despite the automation, you still have manual control of the campaigns.
LeadFuze is primarily the kind of tool that you would want to try if you are serious about generating more leads for your business but with a verified data set that can help you create quality email campaigns or leverage the information during progressed conversations with your potential clients.
Pros
Thorough search filters to find new leads.
Great for managing your lead generation workflows.
Easy to use and customer support is very responsive.
It's quick and easy to use.
Thorough knowledge base.
Automated list building.
Cons
Low number of credits available.
Restricted data in other countries outside the US.
Data for larger companies can get a higher invalid lead data percent.
Data is not always updated quickly enough when user profile information changes
Some industry data was found to be out of date with high bounce rates.
You have to manually search and keep your lists updated for new leads.
There are export limitations.
There are automation limitations.
There are less integrations available.
SalAd is a LinkedIn lead generation agency which finds and connects you with your target audience and nurtures them. Once the lead is sufficiently warmed, they pass it on to your CRM for your team to close. Their team helps you create all the stages of the sales funnel and the initial script.
With SalAd, you can pay for either generating connections only or on a per lead basis, which makes them a worthy contender to consider for your LinkedIn lead generation.
Pros
Personal manager support is really helpful.
Complete assistance in your content and scripts.
No need for a premium LinkedIn account.
Mimics human behaviour.
As per LinkedIn rules with customers reporting no account bans
You pay per lead so results are guaranteed.
Cons
Can get very expensive very quickly due to a high cost per lead. With some of the other options on this list, similar results can be achieved for a cheaper cost.
Most of the lead nurturing is required to be done by you on their basic plans.
Less visibility of your campaigns data.
Limited 3rd party integrations.
Does not work with 2 Factor Authentication enabled for your precious LinkedIn Account.
Results can take up to 3 months as marketing is all about refining and A/B testing.
Russian based Company which might make legal recourse difficult in case of issues.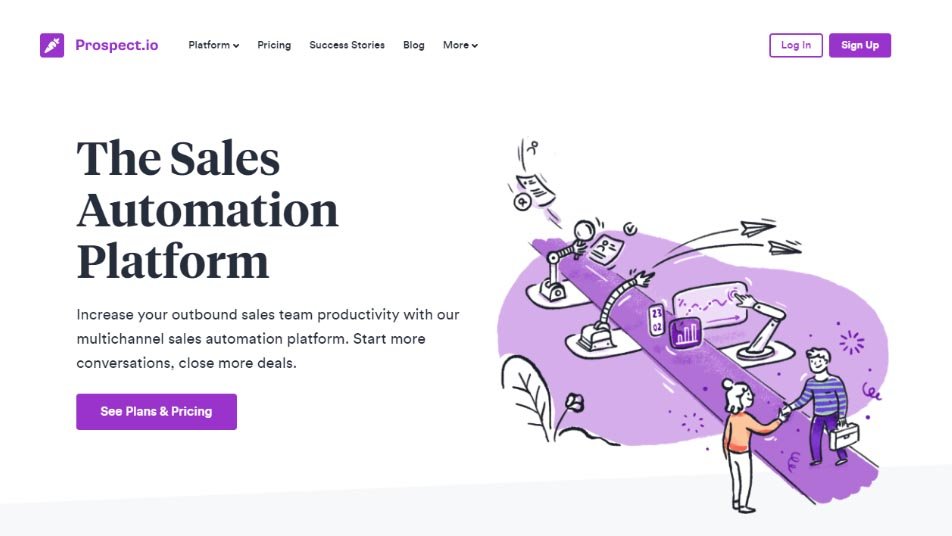 Prospecti.io is a productive sales automation platform for modern sales teams. It can scrape email addresses and help you build cold email sequences. It can help you leverage your LinkedIn account to generate leads. You can also set up multi-channel campaigns including both emails and social media platforms, with campaign targets. It provides deep analytics, an email finder, and perhaps the best thing about them is that they integrate many tools at the same time, which makes them incredibly efficient.
This is definitely one of the strongest LinkedIn automation tools when it comes to productivity because you can get contact details including LinkedIn URL, email, profession, and name imported into your library really quickly so that you can actually focus on conversions.
Pros
Integrates with many tools.
Lets you automate redundant sales tasks.
Strong email finder tool.
Features decent automation.
Comprehensive view of analytics.
Cons
Can get expensive as has less email finder credits to actually convert leads.
Lacks some advanced features like some other tools on this list.
Does not offer lead generation automation directly on LinkedIn so a great fit with one of the other tools.
Quality of email addresses can be a hit and a miss.
Can be difficult to set up the drip campaigns.
Can't run the campaign immediately when a contact is added to a list.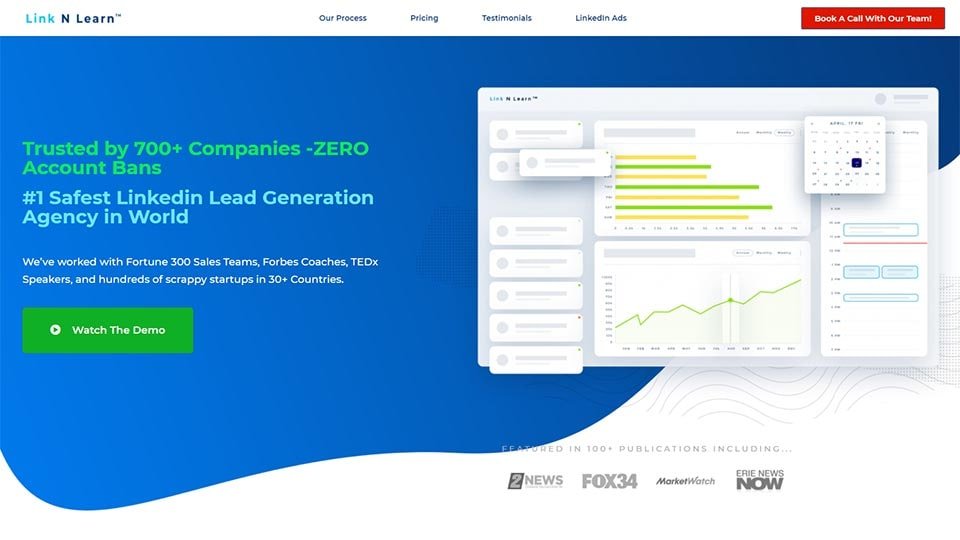 Link N Learn is a Linkedin lead generation agency which offers fully managed campaigns with CRM integration. They will create and manage Linkedin lead generation strategies for you and pass on the warm leads to you for your sales team to close. Their claims of clients seeing 30-60 leads per month, 10-12 booked calls, and a positive ROI in 90 days does seem promising.
Link N Learn can be used to build your system that leverages powerful organic outreach and direct message campaigns on LinkedIn that will increase your ROI.
Pros
Automated process where you get warm leads into a spreadsheet.
Content and script is taken care of.
Good customer support team.
Based in the US with a reliable team.
As per LinkedIn rules with customers reporting no account bans
Some customers have reported great results.
Cons
Some customers have reported very poor results with no warm leads or conversions even after waiting 3 months.
No support in targeting/refining the right audience – which is one of the key factors that determines the success or failure of a lead generation campaign.
Some customers have reported the content and script to be not effective.
No direct control of the campaign and limited reporting.
Limited 3rd party integrations.
Once a lead is generated on LinkedIn, the process is more manual and laborious.
No additional support provided for your business' marketing campaign improvement.
Does not work with 2 Factor Authentication enabled for your precious LinkedIn Account.
Recommends LinkedIn Sales Navigator to take full benefit of their service.
Conclusion
LinkedIn is a great platform where professionals, decision makers, business owners are actively networking, as we all know. So don't ignore the power it offers to generate new business, expand your network, get exposure for your products and services.
And to really super-charge your LinkedIn lead generation efforts and tap the platform's full potential, we recommend using high quality tools and services, like those listed above in our list.
So whether you are a startup founder, an influencer, a business owner or decision maker, in B2B marketing or otherwise tasked with sourcing leads or new business for your company, LinkedIn is one of the most powerful platforms you can use to grow your business.
Using smart and market leading automation to auto connect with thousands of new potential business clients with the right messaging pitching your products to them means you can and should focus your efforts only on where it counts – adding value to those already warmed up leads  who are interested in your product to start closing deals.
However, more and more people have started to use LinkedIn for this purpose. Competition has gotten fierce and it is now harder than ever. This does mean that if you plan on getting anywhere with your LinkedIn growth campaigns, you've got to find tools and services that can give you the edge you need to succeed. Make sure that you find a tool that fits your end goal and actually helps you increase your sales revenue with a good ROI. Everything else is secondary.
So, there you have it – some of the best LinkedIn lead generation tools in the industry as we think of them. Use them to help you grow your profile and generate leads for your business on LinkedIn. Feel free to leave your feedback below how you find the above tools or if there are other tools you utilise that are benefiting your business.
---
FAQ's — short answers
What are LinkedIn tools?
LinkedIn tools are software designed to make the most out of LinkedIn. They can take many shapes and forms. Nowadays, there are several LinkedIn tools available which can help you with many different kinds of automations. They can help you to use LinkedIn for prospecting or hiring new talent. LinkedIn itself offers its premium service called LinkedIn Sales Navigator, to help you connect with more professionals at a deeper level. Refer to our list above for more tools.
Is LinkedIn still relevant 2021?
Yes. LinkedIn is not going anywhere. Its users have increased significantly in recent years. Most LinkedIn users have higher education and belong to high-income groups. Professionals, decision-makers, corporate executives, all love LinkedIn. A fun fact, over 2 members join LinkedIn each second.
Why should I use LinkedIn tools?
LinkedIn has the largest online database of professionals, with over 740 million users in more than 200 countries. It is a great platform to find potential clients and new business resources. Using tools will help you expand your network and build a strong profile on LinkedIn, which you can then leverage for your benefits – such as prospecting or hiring, etc.
How do I use LinkedIn as a sales tool?
LinkedIn comes only second to Facebook, as the most preferred social media platform and possibly the first for higher quality leads and by B2B marketers. You can publish your own content, reach out to potential prospects manually or through automation tools and find prospects whom you can move through your sales funnel.
Are LinkedIn automation tools safe for my profile?
The quality ones are but be careful. Using a third-party automation tool for LinkedIn growth campaigns can potentially lead to your account getting banned if the tool ignores LinkedIn guidelines. Good automation tools, like in our list above, make sure that LinkedIn guidelines are followed, so your account is safe and does not get a permanent ban.
What is LinkedIn automation?
LinkedIn automation is when a software automatically handles your tasks such as invites, messaging for your LinkedIn growth. Smart automation tools these days can even take actions for you in certain groups and pages and send out feed messages for you. They can also share and comment on specific kinds of content and get their attention for you. This means that rather than manually typing out hundreds of messages each day to connect with potential leads, automatic tools like the ones on the list above can do this for you.